Olympic champion Nick Skelton says he has "come to accept" his decision to call time on a stellar showjumping career.
Skelton won Olympic individual showjumping gold in Rio last August, while four years earlier at the London Olympics he helped Great Britain to team gold alongside Scott Brash, Ben Maher and Peter Charles at Greenwich Park.
He recovered from a broken neck in 2000, returning to the saddle barely two years later, before achieving his number one ambition of an Olympic individual title, riding the brilliant stallion Big Star.
Skelton, 59, and Big Star will both formally bow out on the final day – May 14 – of this year's Royal Windsor Horse Show, and while it is sure to be an emotional farewell in front of a bumper crowd, Skelton believes the time is right.
"It took a lot of thought through the winter, really, as to what I was going to do, and also involving Big Star," said Skelton, whose retirement was announced last month. "He's had his few little injuries and what have you, but now he is 100 per cent fine, and I intended to carry on this year. But then … if I went and competed and something went wrong, I wouldn't be too happy about that decision.
"I feel much happier that he has retired in one piece, and the same for myself, really. I didn't want to jump and something go wrong again. You know he is in good shape, and it's all about him really. He has been so good.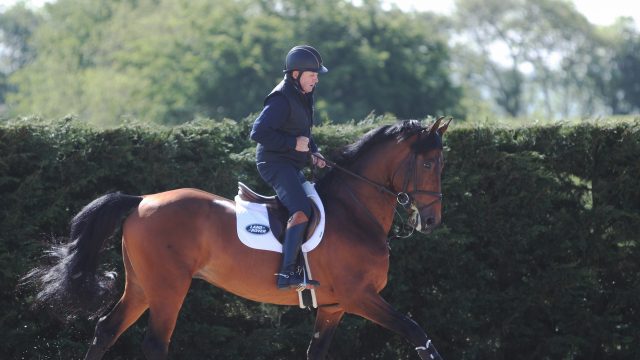 "It is going to be a big weekend at Windsor, but I have thought it all through and as time has gone on, I have come to accept the outcome. I've had a good innings, and I have got out in one piece."
It did not look that way 17 years ago after Skelton was seriously hurt at a show in Cheshire, but he was back competing again just a couple of years later.
"My accident in 2000 was a big day in that could have been the finish of everything," he added. "It took a couple of years to get back. It was my decision to ride again."
Apart from two Olympic golds, Skelton won a World Championship silver medal and four bronzes, plus three European golds, three silver and three bronze.
He was also a mainstay of British Nations Cup teams and won grands prix all over the world, in addition to three Hickstead Derby triumphs and four victories in the King George V Gold Cup.
But it was aboard Big Star that Skelton enjoyed his greatest triumph, delivering a showjumping masterclass under intense pressure in Rio last August.
"For what he has done and what I've done, to finish at the top – you can't get better than Rio – so I decided to call it a day," he said. "Big Star has been the horse of a lifetime. I have been very, very lucky to have him."