David Broome has hailed Olympic champion Nick Skelton as "one of the showjumping greats" after his retirement was announced on Wednesday.
British Showjumping said that 59-year-old Skelton and his Rio Olympics gold medal-winning ride Big Star will formally retire at the Royal Windsor Horse Show on May 14.
Skelton won Olympic individual gold last August, while four years earlier at the London Olympics he helped Great Britain to team gold alongside Scott Brash, Ben Maher and Peter Charles at Greenwich Park.
He recovered from a broken neck in 2000, returning to the saddle two years later, before achieving his number one ambition of Olympic individual gold eight months ago.
And Broome, who won two Olympic bronze medals and three individual world titles during a stellar showjumping career, believes that Skelton is among the sport's top five of all-time.
"He was always special," Broome told Press Association Sport.
"His determination to win was always right up there, and his attention to detail stood out. He had a brilliant mind for detail, and he was always so well organised to go and do the job."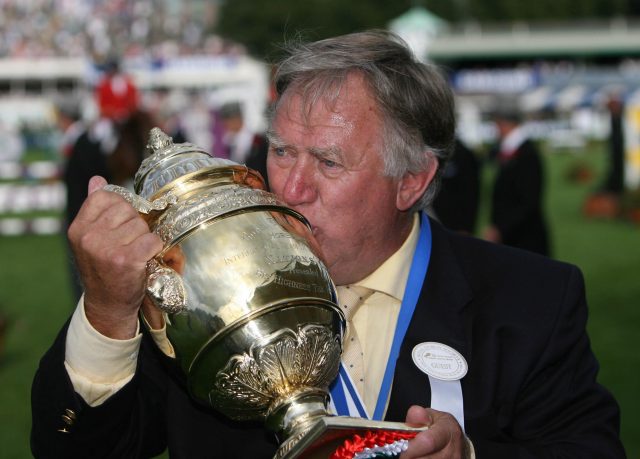 In a statement released by BS, Warwickshire-based Skelton said: "It has come to a point, after months of thought and consideration, that myself and my partner Big Star have decided to retire from competition.
"Although there are many people, including my family, Gary and Beverley (Big Star's owners Gary and Beverley Widdowson) and my team that were looking forward to us carrying on this year, we feel that Big Star has done everything that a rider could ask and it is time for him to relax and enjoy his stallion duties.
"As for myself, I have always stated that when Big Star was finished I would be as well.
"This sport has given me more than I could have ever hoped over the past 43 years, and it is such a difficult decision to make.
"But I am not getting any younger, and it is nice for the two of us to end on the highest note possible.
"Thank you to all of the incredible friends and fans for your support – we are truly appreciative and humbled.
"Thank you to all of my owners and sponsors throughout my career, I couldn't have done it without you. And lastly, thank you to all of the horses I've ridden, you have provided me with opportunities one could never have imagined."
Recalling Skelton's horror fall at an event in Cheshire 17 years ago and his subsequent injury, Broome added: "I tried to talk to him about retiring when he broke his neck.
"I remember telling him there was a life after riding and all that, but he got over the injury and came back within two years.
"When you saw him walking around with all that scaffolding around his neck, you could never imagine him riding again, but Nick was always so determined to achieve. Whatever he does, he does well.
"He will have a wonderful retirement, and there is no question that he is one of the superstars of all-time in the sport."